To natural soothing lotion
Taking care of babies skin Naturally
To natural soothing lotion
Taking care of babies skin Naturally
TRADE ONLY Website - Email trade@tiddley-pom.com for access
Natural and Organic baby spa products to sell on, use in class setting or buy organic massage oil for teaching baby massage classes.
Offering Baby Massage Teachers, Doulas & Midwives and Baby Yoga Teachers the opportunity to become a Tiddley Pom Massage Oil Partner and Affiliate.  
On joining our Business in a Bag Affiliate program, our postnatal & baby teachers can supplement their income, from their homes via their own social media or during classes. They can do so by selling our natural products to their audience and parents.
Over 200 affiliates have already signed up and are earning 15% commission on every sale - with no targets and no minimum order values.
For our affiliates we supply bulk organic cold pressed sunflower oil in pre filled 50ml bottles for use in class at cost price.
We also sell our 50ml oil in bulk to non affiliates - If you are simply looking for a supplier of the best quality organic sunflower oil for your classes then you have come to the right place.
Not tried our products? Click for some samples and more information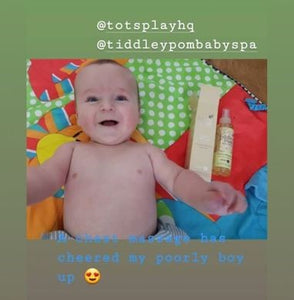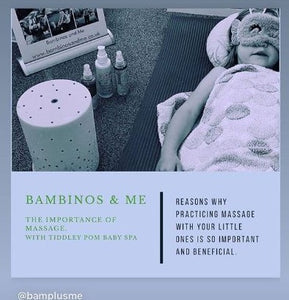 Don't take our word for it
"I love using Tiddley Pom oils in my classes and the business in a bag and bulk oil options have been a fantastic low-cost way for me to supply products to my clients.

It has also provided me with an extra income stream being a Tiddley Pom affiliate, and my clients have absolutely loved the lotions and aromatherapy bundles they've bought through me"

Corinna Nicol - The Mummy Circle
Tiddley Pom business in a bag has been a great addition to my baby massage business. It not only means I can supply high quality products to my clients but at a reasonable price too. The products are amazing, I even use them on my own baby now!

Louise Parkin - Panda Cubs Baby Massage
 I use both Tiddley Pom oils and diffusers in my classes, and supply their amazing products to my customers as an affiliate. Promoting the products is so easy as I use them with my own family and I can tell my mums, with confidence, that they really are the best I've tried. My customers love it! The Tiddley Pom team are extremely knowledgeable about their products, are so helpful and always ready to offer advice and support when it's needed.

Claire Wimble - Tots Play (Doncaster East)