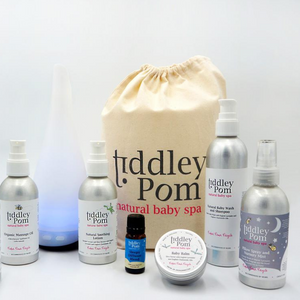 Looking for the ultimate baby or new parent gift, then look no further - Organic and Natural ethically Sourced Parent & Baby Spa Bag. 
The Kharis Gift Bag contains all a new parent could wish for in one bag. All of our natural baby spa products plus our best selling Kharis diffuser, Sleepy blend essential oil, Baby Massage CD & Download of music. 
Your bedroom or babies nursery will smell and sound wonderful as you commence bath and bedtime routine with your little one. 
The Kharis Gift Bag Contains:
1x Organic Baby Wash (250ml)
1x Organic Baby Massage Oil (150ml)
1x Organic Soothing Baby Lotion (150ml)
1x Organic Nappy Balm (50ml)
1x Pillow spray and Nursery Mist (150ml)


Plus
1x Sleepy Diffuser Blend (10ml)
1x Kharis diffuser
1x Tiddley Pom CD and download
All presented in a beautiful Tiddley Pom cotton bag
Tiddley Pom Natural Baby Spa offers 'something different': A natural and Organic spa range for babies with a treatment protocol designed specifically to ensure the all-organic products compliment each other perfectly. It is also a wonderful way for mums and dads to bond with their babies.
Developed especially to calm irritable, agitated and restless babies, the range also helps promote sleep, relieve tummy upsets and soothe babies whilst feeding. The products can be used on their own but work even more effectively as a complete spa treatment.
Full product specification can be found under each individual item in the shop.