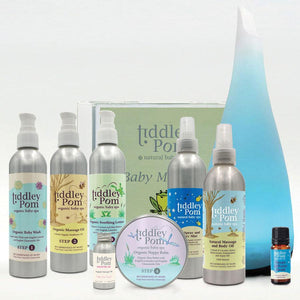 When you purchase the premium pack you immerse yourself into the top quality, best selling aromatherapy essential oil range in addition to the ever popular Tiddley-Pom for Mother & Baby. With an investment of just £39 valued at £68.60 it doesn't take long for you to succeed and prosper.
Only you as a TP authorised and sponsored partner have access to this specialist premium pack. 
Contains

1 x 30ml Wash & Shampoo
1 x 30ml Massage Oil
1 x 30ml Soothing Lotion
1 x 30ml Baby Balm
1 x training DVD
20 x Brochures
1 x pad of Order forms
1 X 30ml Aromatherapy shed Wash
1 x 30ml Aromatherapy Shed Lotion
1 x Tiddley Pom Cotton pull string bag.
1 x 10ml Sleepy Blend Essential
1 x 10ml purifying blend Essential