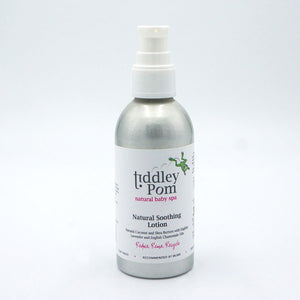 Tiddley Pom Natural Soothing Lotion blends together organic English lavender and chamomile essential oils helps to calm, heal and soothe your baby's skin naturally. It soothes with an infusion of relaxing English lavender and chamomile essential oils and is gentle enough for use from birth. 
Natural - Vegetarian - Fair Trade - Cruelty Free - Made in the UK

Helps prevent dryness and allows babies sensitive skin to retain natural oils

Suitable for use from birth and for problem skin conditions incl eczema, psoriasis and dermatitis 

Can be used after bathing or to help reduce angry skin complaints

Long lasting - only a small amount needed
91% certified organic ingredients

It contains smooth, luxurious butters such as shea and coconut from our fair trade African partner

Rich in omegas 3, 6 and 9 to moisturise and protect

Sunflower, olive and linseed oils combine to hydrate and create a protective and soothing complex for your baby's skin
Size: 150ml 

Whilst it is very rare that a baby has an allergic reaction to any of the natural ingredients in our products, as a precaution it is advisable to carry out a patch test on the baby before used for the first time. A small amount of the product should be gently applied to the inside of the wrist. Wait a minimum of 15 minutes before commencing use with the product.
 Size 150ml of organic baby soothing lotion in a 250ml flask Please note that during the transition from plastic bottles to aluminium flasks there will be a period where flasks are larger than the product volume. You will receive the correct volume of product that you have for the last 10 years, it is only the flask size that has changed.