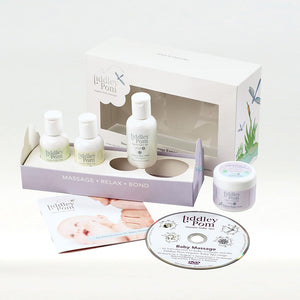 This unique new baby gift gives new parents everything they need to enjoy baby massage and care for baby's skin. A special present for any parent to be or new parent.
It contains:
1x Organic Baby Wash (50ml)

1x Organic Baby Massage Oil (50ml)

1x Organic Soothing Baby Lotion (50ml)

1x Organic Nappy Balm (30ml)
Our instructional baby massage DVD and booklet give a step by step guide to the bonding experience of baby massage.
Organic Baby Wash
Our organic baby wash is the perfect treat for your baby's skin at bath time. It soothes and cleans with an infusion of English Lavender and Chamomile oils. Ideal for delicate new born baby skin.
Organic Baby Massage Oil
Our organic baby massage oil is a treat for baby, mum and dad too! It is made from fragrance-free certified organic sunflower oil. In a convenient spray bottle, Tiddley Pom's Organic Massage Oil is ideal for baby's body and face.
This natural carrier oil imparts a host of naturally derived vitamins including gamma linoleic acid, omega 6 and other fatty acids essential for healthy skin.
Organic Soothing Baby Lotion
Our Organic Soothing Lotion's blend of organic English lavender and chamomile essential oils helps to calm, heal and soothe your baby's skin.
It contains smooth, luxurious butters such as shea and coconut from Africa and is rich in omegas 3, 6 and 9 to moisturise and protect.
Organic Baby Balm
This specially-designed baby balm is silky and smooth, helping to restore your baby's natural acid mantle layer as it protects - Used as a Nappy balm, teething balm and for mummys tummy too.