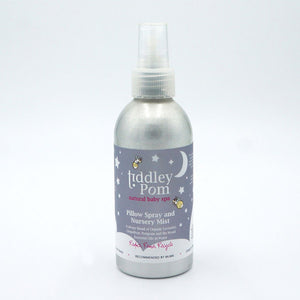 Tiddley Pom's divine smelling, vegan and 100% natural sleep Nursery Spray and Pillow Mist was blended from 100% pure premium essential oils by our expert aromatherapist. This light spritz has been created for use in the nursery and on cot bedding to create an atmosphere of calm and peace to aid sleep for even the most fractious of settlers.
 
Spritz into the air or onto the baby's sheet to help a gentle and natural sleep. As your baby grows and moves into their own bed (approx 18 months) you can spray the pillow mist directly onto their pillow before bed. 
100% organic 

Natural - Vegan - Fair Trade - Cruelty Free - Made in the UK

Aids sleep naturally

Spray into the room a few moments before getting baby ready for bed 

Can be used for all ages from birth to 99 and above

It contains lavender, ho wood, grapefruit and petitgrain essential oils

 Size: 150ml  
This product is suitable from birth plus and has been created to spray into the air and onto pillows and bedding, not onto skin. Please follow instructions carefully and whilst it is very rare that a baby has an allergic reaction to any of the natural ingredients in our products, as a precaution it is advisable to use for the first time when you are able to check the baby after 15 minutes before commencing ongoing use with the product.