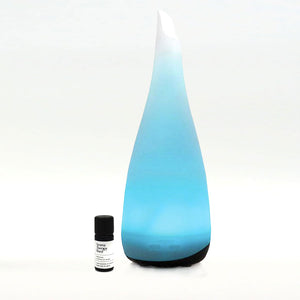 Festive Kharis Bundle 
The bundle includes:
1 x Kharis Nursery Aroma Diffuser 
1 x 10ml Festive Blend Essential Oil 
1 x Relaxing Music Download

The Kharis Diffuser
The Kharis is our best-selling diffuser, with the ability to use with or without mood light combined with this natural festive essential oil will help bring the festive feelings and smells into your home naturally.
Festive Essential Oil Blend
This magical festive blend of nine essential oils including our favourites such Frankincense, Myrrh and Mandarin.  These are complemented by a sweet grapefruit, deep floral Rosalina with Fir Balsam, Bay and a touch of Nutmeg. 
Relaxing Music Download
Icelandic composer and guitarist, Fridrik Karlsson has created three soundtracks with guitar chords and percussive wind chimes that lilt like a lullaby. Set the lighting low, Switch on the diffuser, add the festive essential oil and let the worries of the day melt away as you listen and de-stress after a busy day.